How Can We Help?
Search for answers or browse our knowledge base.
PartNumber Lookup
Purpose:
To explain the uses and "best practices"for the PartNumbers database.
Prerequisites:
The below information is based upon the following assumptions:
You have enabled PartNumbers in the configuration profiles of both AccountManager and SalesAnalysis (if applicable).

 

See your administrator with questions.
Your organization has specifically set up your security preferences for the PartNumbers database.

 

(Default set-up when database is installed is minimal.

 

Administrators, please contact

support@empoweringsystems.com

and let us know which users should be able to delete or modify data in this application).
Your administrator has created Principal Views for each principal in the PartNumbers database (see button on Configuration Profile).
Note:
The PartNumbers database is a separate application from AM and SA, but it is included in your standard suite of software.  If you've never opened this application before, the simplest way is to go to File > Open > Lotus Notes Application.  You should see the PartNumbers database in the list, similar to the one below: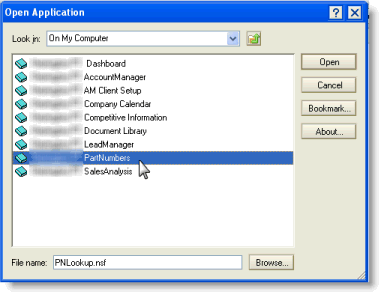 Outline:
What can PartNumbers do?
Store "Manufacturer Part Numbers"(MPNs) along with associated information (product line, standard price, etc)
Memorize "Customer Part Numbers"(CPNs) and the associated manufacturer part numbers and information
Both of the above scenarios allow users to "pick"part numbers from a list, and have other details regarding that part number populate automatically.
How do part numbers get into the PartNumbers database?
Importing an Excel spreadsheet of manufacturer part numbers (i.e. a price list)
See the Import/View Setup Guide for more info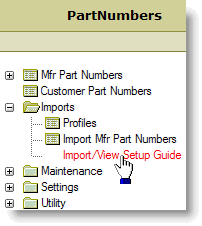 2. Via "collection"(as you enter part numbers on various documents, like Opptys, Quotes, Bookings, etc)
The information you enter determines what "kind"of part number is created in PartNumbers (Mfr vs. Cust)

If you enter a manufacturer part number only, a "Manufacturer Part Number"is created in PartNumbers.

 

This part number is now available in the "Mfr Part Nr"picklist regardless of the customer, distributor, etc. as long as the same principal is used.
If you enter a manufacturer part number

and

a customer part number, a "Customer Part Number"is created (and

not

a Manufacturer Part Number).

 

This part number is now available in the "Cust Part Nr"picklists, but

only

when the same principal and customer are used.
Where and how can we use the part numbers that are stored in PartNumbers?
Anywhere you see hyperlinked part number fields in AM or SA!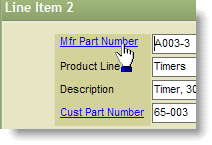 If you get this error, your administrator still needs to set up the Principal Views in PartNumbers:

Best Practices, Tips, & Additional Info
Administrators should consider creating a Principal View for each principal as soon as possible after deciding to enable PartNumbers.
Administrators, be sure to enable System Maintenance, so that updates to company names, etc can carry through to your part numbers.
Delete all the part numbers for a specific principal

before

importing a new (updated) list of part numbers, or you may wind up with duplicates.
Entering or importing detailed part number information, makes that information visible in the picklists as "FYI"
When collecting part numbers manually, only the most recently used price is stored in the part number document.

For example, if you enter a part number on an opportunity with an ASP of $0.75, and then copy into a quote, and specify the price is $0.69 on the quote, the part number document will be updated to reflect $0.69.
Pricing is not updated with "Qty Breaks"in quotes, only the uppermost "Line Items"